● Jointed construction from stainless steel.
● Automatic Cut-off device when dry of water.
● Automatic Tray lifting device. (Only for sizes over and including 300 x 150 x 140mm).
● Fitted with Thermostat Control and Pilot Light.
● Insulated lifting handle.
● Supplied with perforated tray and lifting handles.
● Fitted with electric element.
● Supplied with power cord.
● Operates on 220~240V, 50Hz.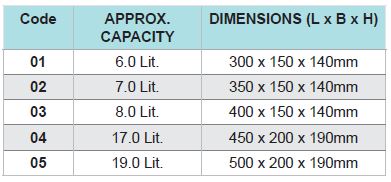 *Internal Chamber dimensions.